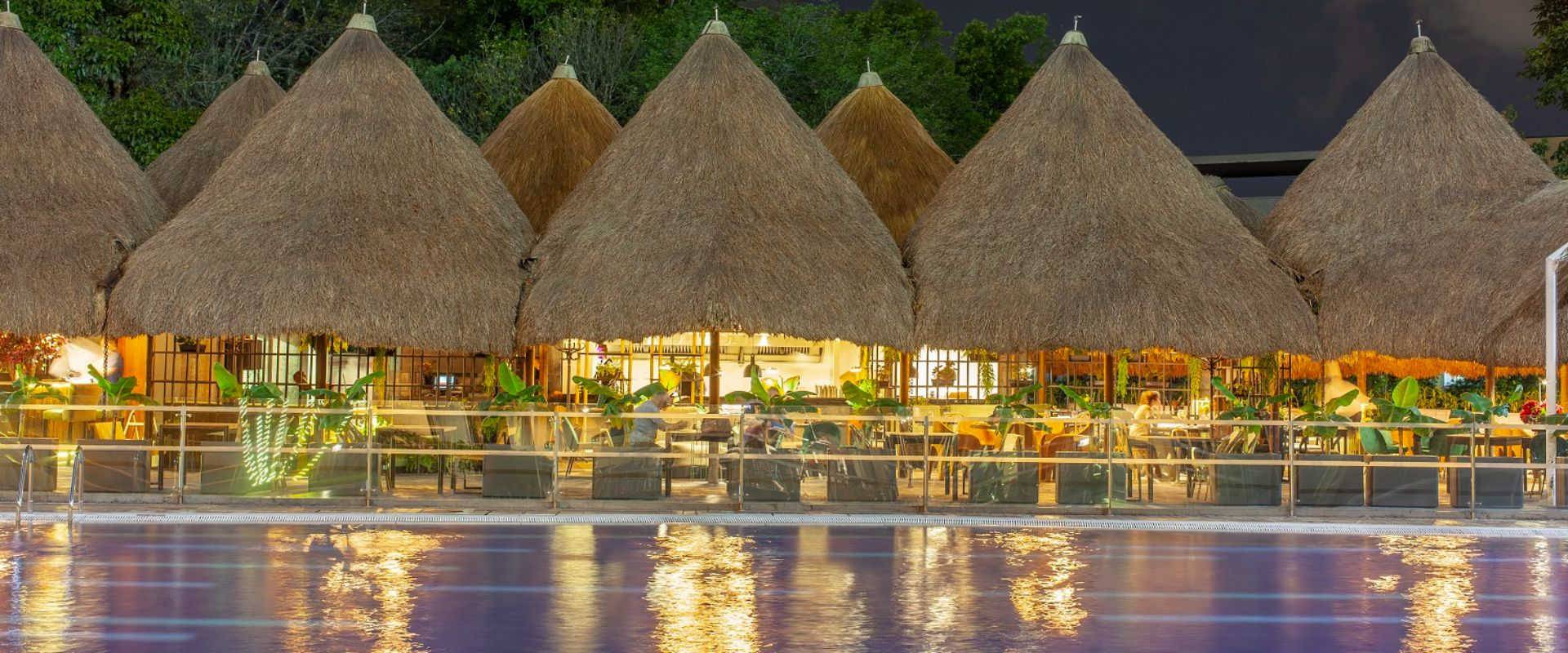 Intercontinental Medellín - Discover our services
Everything in one place
Intercontinental Medellín has an exclusive world-class infrastructure. You will be able to relax, have fun and do leisure activities, without forgetting your daily tasks. In fact, in the facilities you will find everything you need to rest, exercise, walk, and work both inside and outside the establishment. The interior has the furniture and necessary amenities for you to enjoy your stay and get to know the area and its surroundings.
Two fine-dining restaurants

Intercontinental Medellín offers you two excellent culinary options. In the Fogón de Piedra restaurant you will be able to taste exquisite stone-baked and wood-roasted dishes. On the other hand, the Pepe & Melanzane restaurant specializes in typical Italian dishes of the highest quality.

Barí Bar

If you want to hold social gatherings in a unique space with a cosmopolitan atmosphere, Intercontinental Medellín features a very special place. The Barí Bar is the perfect place to get together with friends and family, celebrate events, or carry out business or co-working activities.

Gym

At Intercontinental Medellín we offer you a gym with everything you need to stay in shape. This way, you will be able to continue with your daily routine without interrupting your workout rhythm. Choose the machine you like, the equipment you are interested in and spend the day strengthening your body.

Wet areas

Intercontinental Medellín has a special area for you to recharge your energy levels. You will have access to a large Turkish bath, a sauna and a Jacuzzi. Relax and enjoy a world-class space.

Water, electricity and Wi-Fi included

At Intercontinental Medellín, to manage your time well, and so you don't have to worry about anything, we include everything you need: electricity, water and other services. And with our strong>free Wi-Fi, you can enjoy a high-speed connection. We will make your life easier!

Event rooms

In Intercontinental Medellin's various rooms, you can conduct all kinds of corporate events, social gatherings and whatever you like. Each space is unique and has natural light and all the necessary equipment to make your guests feel comfortable and perfectly taken care of.

Spa

Intercontinental Medellin has an integrated spa area, which is equipped to offer you a unique, relaxing experience provided by expert and perfectly qualified professionals.

Swimming pool

You will be able to use our semi-Olympic pool. It is surrounded by gardens and a sunbathing area so you can relax for as long as you want by the pool with your favorite drink.

Concierge

To make sure you don't miss anything the city has to offer, at Intercontinental Medellín we offer a concierge service and a local guide. They will help you with everything you need during your stay in the Antioquia region.
Other services
Enjoy unique experiences